Qatar Specials
Flying to over 100 destinations worldwide, Qatar Airways is one of the world's newest and most modern fleets to win Airline of the year for two consecutive years. With more than 230 aircrafts including Boeing's 777 & 787, Airbus' A380 & A350, Qatar Airways offers a great world of choices for a travel experience like never.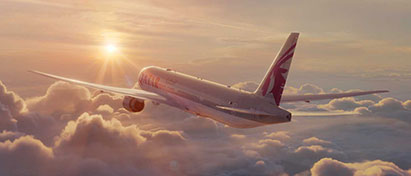 Serving approximately 129 destinations in 69 countries across Oceania, Africa, North America, Asia and Europe, Qatar Airways in one of the few airlines flying to 6 continents. The airline offers non-stop flights from Washington DC to Doha and from Houston to New York.
Some of the few airlines with which Qatar Airways has its Codeshare Agreements include Malaysia Airlines, American Airlines, Middle East Airlines, US Airways, All Nippon Airways, Bangkok Airways and many more.