Etihad Specials
Etihad Airways (EY) takes the spirit of Arabian hospitality into the air, offering travelers a world of comfort and convenience. The airline is based in Abu Dhabi, the heart of modern Arabia, with daily connections from New York (JFK), Chicago (ORD) and Washington to more than 70 destinations across five continents, and was voted the World's Leading Airline for three consecutive years.
ETIHAD is launching new service to the US, with 3 weekly flights between Abu Dhabi and Dallas starting December 03, 2014. The inaugural service for the reservation opened around 06/07JAN14 and the service will be gradually opened to travelers as ETIHAD's reservation system only displays flight operation for the next 331 days.
In-Flight Amenities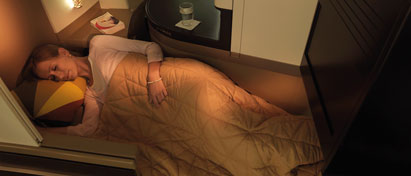 Dine as you like, when you like. Choose from an extensive a la carte range or the Anytime Kitchen menu. Only the finest ingredients go into the creation of in-flight dishes prepared by award-winning chefs, and boutique hand-picked wines are available throughout the flight. Enjoy over 650 hours of entertainment on demand, including more than 90 movies as well as onboard telephones which offer voice calls at competitive rates.
Diamond First Class
Sit back and relax in a spacious Diamond First Class seat which, at the touch of a button, transforms into a flatbed. Enjoy the attention of a dedicated, personal chef recruited from the finest restaurants that will ensure you a positive in-flight dining experience, and entertain yourself with a big-screen 23-inch personal TV.